3PL
9 Key Performance Indicators for Monitoring 3PL Operations
Monitoring KPIs is an important part of your operations and this is especially important for tracking and managing 3PL performance.
---
Monitoring key performance indicators (KPIs) is an important part of your operations and this is especially important for tracking and managing 3PL performance. When eCommerce companies scale beyond a certain point, fulfilling orders in-house no longer makes sense. For that reason, savvy business owners outsource work to third-party logistics providers (3PLs). That way, they don't have to handle warehousing, transportation, distribution, and fulfillment on their own.
Yet when your company outsources to a third party, the efficiency gains come with a loss of direct involvement. You can no longer directly intervene in logistics processes, and you instead have to go through the 3PL. Instead of walking into your own warehouse and seeing how everything is going, you have to rely on information provided to you by the 3PL.
This sounds rough, but it's not actually bad at all. If you know what to look for, you can easily monitor the performance of your chosen 3PL. All you need to do is pick a handful of key performance indicators (KPIs) and keep an eye on them.
First Define 3PL Performance, Then Define Key Performance Indicators
Any time you rely on data to help you understand how your business is performing, you need to answer a few questions first. Some examples of questions to answer before monitoring 3PL data are:
What are your company's overall objectives?

How quickly should packages be arriving at their destination?

How much money are you saving (or losing) by outsourcing fulfillment?
Questions like these help you to see KPIs as part of a bigger picture. Skipping this exercise means risking tracking the wrong KPIs. Making this mistake can make you feel like you are being efficient when you're really not.
Long story short: think about what good 3PL performance looks like before you even track a single data point.
1. On-Time Shipping Percentage
Delivery time influences 87% of online shoppers' purchase decisions. As such, making sure that packages are shipped and delivered on time is critical. A slow order fulfillment process can cost your business a lot of potential revenue in the long run.
2. Shipping Accuracy
Fast shipping is wonderful, but if packages routinely go to the wrong place, then it doesn't matter. Under most circumstances, shipping accuracy is not a KPI that highlights wonderful 3PL performance. Rather, it is a KPI to be monitored because if it slips below 99%, you have a big problem on your hands because a lot of packages are being shipped to the wrong address.
3. Order Accuracy
Similar to shipping accuracy, packages do not just need to go to the correct address. They need to contain the correct items. Making sure the right items go to the right people is critical, and if this slips below 99.8%, then you need to find a company with better order accuracy.
4. Inbound Receiving Time
One of the biggest logistics issues companies can run into is a stockout. If you don't have inventory when your customers are ordering your items, that's a big problem.
Because of this, if a large shipment shows up at your 3PL company, they need to be able to move it from "dock to stock" as fast as possible. If your items sit shrink-wrapped on wooden pallets for a few days at a time while your customers are unable to make purchases, then you're losing money fast.
5. Order Time-to-Fill
This is a relative of the on-time shipping percentage. There are basically two parts to the order fulfillment process when you look at it from a really high level. There is the first part where items go from being ordered to being shipped out of the warehouse. The second part is when the package is picked up from the warehouse and taken to the customer.
Order time-to-fill is focused on the first part. Beyond simply paying extra for priority shipping, you cannot control or influence how fast USPS, FedEx, DHL, or UPS deliver a package. However, as a business owner, you can at least make sure your 3PL has a good order time-to-fill because that means there are no preventable delays in on-time shipping on their end.
6. Inventory Accuracy
Both the receiving process and the order fulfillment process can be error-prone. When this gets out of hand, inventory levels may not be accurate anymore. If inventory levels are too inaccurate for day-to-day use, that indicates that the 3PL is not making the best use of its warehouse management system. Without accurate inventory levels, it's tough to forecast revenue or estimate demand, so making sure your 3PL keeps inventory levels accurate is important.
7. Time to Process Return
Returns are very common in eCommerce, but it's not uncommon for the returns process to be unnecessarily complicated. Your chosen 3PL needs to be able to process returns between 48 and 72 hours 95% of the time. If this level of service cannot be maintained, it indicates a problem with your chosen 3PL's reverse logistics processes.
8. Return Rate Due to Shipment Damage or Error
Some packages will be inevitably damaged in transit to the customers. However, if goods are routinely being returned because of shipping damage, that may indicate a problem with the 3PL. If items are not being packed with enough padding or are being put into boxes that are too big, that dramatically increases the risk of damage in transportation.
9. Cost Per Unit Shipped
Last but not least, periodically review 3PL performance by taking the total cost to ship and dividing it by the number of packages shipped. The appropriate cost per unit shipped differs heavily based on what you are shipping and where your customers live. However, if the number seems way too high or if you see it creeping upward, that may indicate a problem with expenses that is better mitigated early on.
Final Thoughts
By choosing a handful of key performance indicators (KPIs) to keep an eye on, you can easily monitor your 3PL's performance and ensure they are meeting your customers' needs. Used properly, this data can make sure your items are being delivered on time, to the right place, intact, and for a reasonable price. Internally, your business can benefit from accurate inventory data and a smooth returns process.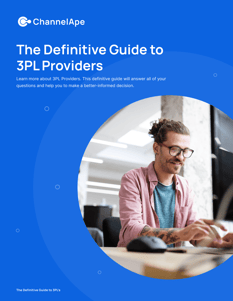 The definitive guide to 3PL.
Learn all about third-party logistics. And get the information and insights you need to make better-informed decisions for your business.