Thursday Boot Company
Harnessing the Power of Data: Thursday Boot Company's Success with an Advanced Order Management and Fulfillment Solution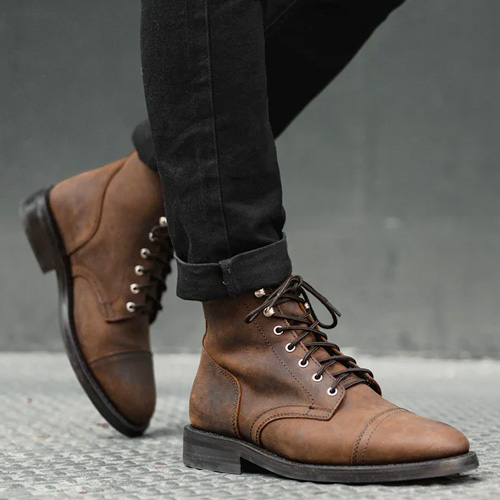 Introduction:
Thursday Boot Company, a prominent footwear company with a vast inventory of 8,300 SKUs, leveraged a data-driven platform to optimize their inventory, order management and fulfillment processes. By harnessing the power of data, the platform provided a seamless integration with existing systems and enabled efficient inventory management and fulfillment, catering to multi-warehouse operations.
Challenges:
As Thursday Boot Company experienced rapid growth, they encountered difficulties in managing their complex inventory and fulfillment processes. The company needed a solution that could handle their specific requirements and easily integrate with their existing systems, including NetSuite. In addition, Thursday Boot Company sought a flexible solution that could accommodate their future expansion into multi-warehouse management.
The Advanced Solution:
The comprehensive, data-driven platform catered to Thursday Boot Company's unique needs, providing scalability and flexibility for their current and future operations. The integration included:
Finance/ERP: The platform was seamlessly integrated with NetSuite, providing efficient order and inventory management.
Channels: The solution connected to various sales channels, including Shopify, Amazon FBM, Amazon FBA, Retail, and B2B channels.
Warehouses: The platform supported inventory management for both single and multi-warehouse operations, offering scalability as the company grows.
Reporting: Thursday Boot Company utilized the platform's data-driven custom reporting capabilities to monitor their operations effectively.
Order Management: The platform offered robust order management features, such as order maturity, financial status filtering, shipping rules, and backorders & split-shipments handling.
Inventory Management: The solution provided a nightly inventory sync, real-time inventory updates, and bundle virtual inventory sync.
Results and Impact:
By partnering with the advanced solution, Thursday Boot Company was able to manage their order fulfillment process efficiently, streamlining their inventory management and order processing. The company benefited from improved data-driven reporting capabilities, which allowed them to make informed decisions and focus on their core business.
As a result, Thursday Boot Company gained the ability to scale their operations confidently, knowing that the platform could accommodate their needs, whether they maintain a single warehouse or expand into multi-warehouse management.
Conclusion:
The data-driven platform proved to be an invaluable asset for Thursday Boot Company, enabling them to streamline their order management and fulfillment processes. By leveraging the platform's advanced features and seamless integration, Thursday Boot Company can confidently continue to grow and expand their operations while maintaining optimal efficiency.