Inventory Management
Tools for Efficient Inventory Management: 6 features to watch
Here are the 6 essential features to consider when looking at new tools for efficient inventory management solutions.
---
Tools for efficient inventory management determine your brand's ability to handle your business operations. Some tools can make or break your inventory management and there are some essential features to consider.
Inventory management software is an essential tool that helps automate your inventory and order management. The system replaces the manual and inefficient inventory handling techniques that have led to considerable losses in various businesses.
Luckily, with the right features, you can categorize inventory, track orders, predict future demands, and gauge the level of customer satisfaction, all while growing revenue and providing a better customer experience. Here are the 6 essential features to consider when looking for a new inventory management solution.
Top Features for Efficient Inventory Management
1. Real-Time Inventory Visibility and Alerts
Real-time updates play a critical role in determining the effectiveness of your business. A cloud-based inventory system allows you to easily access your data on any device –anywhere and anytime. Getting access to real-time data will help generate accurate, real-time decisions in your business and your customers.
Along with providing real-time visibility, an efficient inventory system is essential in giving immediate inventory and order alerts –giving insight into what comes in and what goes out at any given time. So you always know what you have. And what you don't.
2. Inventory and Order Tracking
Inventory tracking is a fundamental aspect of modern warehouses for your ecommerce business. There are often too many goods entering and leaving the warehouse for manual tracking, especially if you have high SKUs, and multiple warehouses to ship from. As a result, your workforce will struggle to keep up with every step taking place in the warehouse.
Your inventory management system should have order tracking features. This will help to fulfill orders based on need, urgency, and location, while also providing sufficient real-time data on what is happening in the warehouse.
Overall, tracking reduces your out of stocks and prevents overselling, while allowing you to drive more sales through preselling.
Other fundamental benefits of inventory tracking include:
Reduced Overselling
Avoidance of Stock-Outs and Excess Stock
Accurate Reports and Audits
Product & Order Tracking
Correct Labeling & Tagging
3. Inventory Forecasting
Running out of stock jeopardizes your brand's level of customer satisfaction. And you don't want to disappoint even your most loyal customers by running out of their desired products.
According to National Funding, running out of stock can break customers' trust in your brand. That is why you need an inventory and order management software that communicates what is running out, and what is in abundance. That way, you don't have to worry about overselling. And, you'll always be in a position to provide the best service to your customers –and exceed their expectations.
Forecasting helps you use your resources wisely, giving you insight into how to balance the inventory you have in stock. In turn, your business will operate at optimum levels –always shipping from the right location, at the right time –based on price and performance –so customers will always get their orders fulfilled and delivered on time.
4. Real-Time Dashboards and Flexible Reports
Your inventory and order management system should not only provide insight on forecasting. It should also have real-time dashboards that your team can use to analyze and determine goods on demand and those that need extended lead time.
You'll also need to ensure all orders are fulfilled accurately, and on time. Real-time dashboards provide notifications with order updates and modifications so you never miss a beat. And, they're essential when measuring key performance indicators so you always know how you're doing.
Look for a solution that allows you to quickly and easily generate and customize your own reports with only the information you need to make your job easier. And, with accurate data and real-time dashboards, you can always make the right decisions. Every time.
5. 3PL Network
As a brand, you always want the option to upgrade 3PL partners, supercharge current ones, or add more SKUs –all without disruptions to your sales process. Luckily, with the right features, you can ensure your fulfillments are always on track, and ship with the most effective carrier and SLA each time. Every time.
Find a solution with a worldwide 3PL network that acts as your single source of truth for all warehouse operations. With built-in carrier tracking capabilities, you can also keep your business informed about the location of orders –letting you easily pre-sell, and execute on customer date promises.
More benefits of a 3PL Network:
Enhanced Business Scalability
Time and Cost Savings
Rapid Business Expansion
Providing Better Customer Experience
6. Fulfillment Playbooks and Custom Business Rules
Every business has a set of rules to govern its operations. These dynamic rules may vary from simple procedures to complex or multi-layer functionalities. In this case, you need a system that can quickly adapt to the rules you set, no matter how simple or complex.
Find a solution with built-in playbooks and industry best practices with both custom and pre-built business rules that help guide your inventory and order management, and automate your fulfillment process –just the way you want it.
So, What Next?
As you can see, your inventory and order management software can determine your brand's effectiveness and competitiveness in the market. You need to ensure that you're operating with the right features to give your business a competitive edge.
We've seen multiple brands have invested in some type of inventory, order, or warehouse management software without paying attention to the right features. After working with brands like Allbirds, Rothy's, Birdies, and Steve Madden, we've determined these 6 key features are what you should be looking for to grow your revenue and scale your brand.
Why You Need ChannelApe's Inventory & Order Management Software
ChannelApe's inventory and order management system is purpose-built for high SKU brands. You don't have to struggle with generic systems that fail to deliver expected results. This unique software is customized using your historical data, making it easier to predict future inventory management requirements.
Real-time visibility and precise and accurate forecasting help you save time in manual reporting and data analysis, enabling you to concentrate on your growth. ChannelApe's software is a comprehensive tool that provides services ranging from order management and fulfillment playbooks to real-time dashboards and reports, expert support, a 3PL network, and more.
Are you looking for a best-in-class inventory management system ready to provide an unmatched customer experience? Get a Free Demo from ChannelApe's inventory and order management solution and change your order management today. With the real-time visibility and features you need for a better business.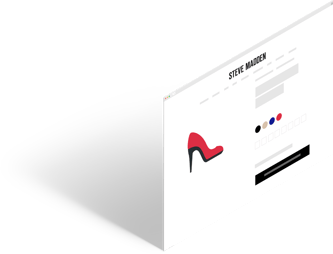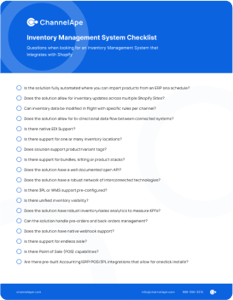 Shopify inventory management system checklist.
Looking for an inventory management system that integrates with Shopify?

Download your own personal checklist of questions to ask so you can make the best decision for your business.