Fulfillment
When You've Outgrown Your 3PL
It can be difficult to find a fulfillment partner as a perfect fit for every stage of growth.
---
For many eCommerce brands, changing fulfillment partners is an inevitable part of operations. It's not uncommon for a growing brand to switch fulfillment partners as much as every two years. So why switch this often? Well, it can be difficult to find a fulfillment partner as a perfect fit for every stage of growth. For instance, you may start out with a 3PL that doesn't require any minimum for order volume. A 3PL like this can be good for a start-up brand as a sufficient way to begin outsourcing fulfillment if you don't have enough volume to work with other 3PL partners that may require more. At some point, you may find having too many orders that your current 3PL can't keep up.
You may start to ask yourself, have I outgrown my 3PL?
If you find yourself asking this question, let's start off by saying, congrats! This is a sure sign that your business is picking up steam proving that you can build a solid customer base who love your products and the customer experience you've created. Now you're faced with having to make the necessary changes in your fulfillment operations to keep your current and new customers delighted. If you have outgrown your 3PL, the longer you delay to make a change can really set your business back. All your hard work to scale can all go to waste if customers aren't getting their packages on time or experience other fulfillment issues.
What are the signs that show you've outgrown your 3PL?
KPIs Aren't Being Met
If you find your 3PL is continuously committing errors that are costly whether it pertains to receiving, inventory, picking and packing, or errors in shipping, this could be a sign that you've outgrown your 3PL. Are your customers receiving the wrong items in their orders? Are orders being shipped to the wrong addresses? Do customers complain that products received were damaged due to poor packaging? If these errors are all too familiar, then it's time to change your fulfillment provider.
You Need to Add Better Technology to Keep Up
If you find your 3PL's technology to be basic or outdated, this will cause a lot of headaches for your operations and customer service teams making it difficult to troubleshoot issues when your customers reach out asking where their order is. You may also find issues with inventory inaccuracies. If you have inventory inaccuracies where a product that is truly out of stock is showing in stock on your ecommerce site, you may end up having to cancel some customer orders that can't be fulfilled. Issues like this can leave your customers dissatisfied with their experience shopping on your website, meaning you'll lose sales and potentially lose a loyal customer.
Your 3PL Can't Scale to Your Needs
As you order volume changes, you may find that your 3PL isn't able to meet your needs. For instance, you may begin to notice more service errors because your 3PL does not have enough resources or the right technology in place to help as you scale. You may notice more issues occurring during your peak season which for many would be during the holiday season. Having your orders not shipped to meet the delivery time promised to your customer, tracking not being sent, or orders not being fulfilled or wrongfully picked, will cause a great deal of strain on your customer service team and potentially lose a sale or customer for good.
You Need to Add More Fulfillment Locations
Your warehouse location will majorly influence delivery times and transportation costs for how fast and cost efficiently you can ship your products to your customers. As you grow your customer base, you may want to add or move your warehouse to be in a location closer to serving where most of your customers are.
You Need to Add Additional Services
Your current 3PL might not have the capabilities and resources to support add-on services such as kitting, returns handling, FBA prep, or custom packaging. You may find that as you grow your businesses, adding these types of services makes sense and so if your 3PL can't support, you may have to look for one that can.
You Need Better Support
We often hear from brands that the quality of support they receive from their 3PL has decreased over time since they've launched. They would find support being exceptional from the beginning but over time, it would dwindle. Often left in the dark, waiting for a couple weeks to hear back from the warehouse on issues with orders. Your customer service team finds themselves stuck with lack of answers to address customer issues and complaints having little insight into what is going on with an order. This would cause major frustration for your customers and could potentially lose a sale and customer in the process. If you find that your fulfillment provider isn't acting as a partner to help your business succeed, this could be a red flag and might be time to look for a new partner.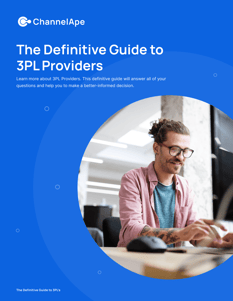 The definitive guide to 3PL.
Learn all about third-party logistics. And get the information and insights you need to make better-informed decisions for your business.