Fulfillment
What the Shopify Fulfillment Network means for partners, brands & 3PLs
To better help you determine if the Shopify Fulfillment Network is right for your business, here are some benefits we've identified.
---
Shopify had a big announcement at Shopify Unite 2019 this year; the pending launch of the Shopify Fulfillment Network (SFN).
The big one https://t.co/klyl5JlmsL

— Tobi Lütke (@tobi) June 19, 2019
While Shopify didn't directly mention Amazon or FBA by name, it was obvious that "marketplace fulfillment" referred to FBA when presented by CPO Craig Miller.
It appears Shopify listened to the feedback from its core SMB opportunity and is attempting to position itself as the more brand-friendly alternative. It understands the importance of fast online fulfillment and the market opportunity it presents. Shopify claims it will invest over a billion dollars to the SFN initiative. Over what period and how remains to be seen.
There are some burning questions surrounding the announcement of the Shopify Fulfillment Network:
Will the SFN actually be a competitive solution to Amazon FBA?

How will SFN stand out from the rest of the fulfillment solutions, such as FedEx, UPS, FBA, and 3PL's?

How will SFN be priced and will it be comparable to FBA?

Amazon, Walmart, and Target offer next-day shipping. How will Shopify compare?

What type of SLA's will be offered by Shopify?
To better help you determine if the SFN is right for your business, below are some benefits we've identified for SFN.
For Brands
Benefits
SMB Focused

Your Own

Ship in your own branded box

Data & customer information belong to the brand.

Multichannel
Open Questions
These are open questions and expected limitations with v1 because no one really knows how SFN is going to be powered.
Limited Flexibility

Will there be support for building kits/bundles within the Shopify UI?

Vendor Lock-in, tied to Shopify Ecosystem.

How customizable will it be?

SLA

What types of SLAs are available?

The claim is < 1 day to fulfill, 2 days to deliver, and 99.9% order accuracy

That data is from shipping Shopify POS hardware

The US Only

No international capabilities

Visibility / Control

Lack of visibility into individual warehouses / 3PL assumed

Where are your products actually housed?

Who will handle support issues when they arise with the end customer?

Cost

It is unlikely that SFN will be competitive with stated low volumes.
How will Shopify progress towards SFN?
While no one knows right now, we have an idea of how they are doing this today. We suspect they will start by just white labeling on top of a WMS platform & 3PL network.
Short Term (< 2y)
Partner with WMS Software Providers to integrate with new Shipping and Delivery APIs

Partner with physical warehouse providers using these WMS systems

The warehouse can opt-in to become part of the Shopify Fulfillment Network once their WMS is integrated.
Mid/Long Term (> 2y)
Start replacing poorly performing partners (both physical and technology) with better-performing partners.

Start replacing both types of partners with their own assets

Purchase physical real estate

Build a Shopify WMS
Comments? Feel free to tell us your thoughts below.
What are the benefits for 3PL providers?
Benefits
Access to Customers

Shopify has 800k + customers of which about 6,000 are assumed to use Shopify Plus

Increase in Revenue

Shopify provides their WMS system

Perfect for a smaller 3PL without their own WMS system for pick pack and ship
Open Questions
Technology

Shopify will likely require warehouses to integrate into their platform and adopt their standards whether or not they are compatible or make sense for specific use cases.

SMB Focused

High SKU counts, few orders per month

Redundancy

If Shopify acquires assets and builds its own 3PL centers, you will be cut out. Remember Amazon?

Reduced Margins

Shopify will likely try to bundle postage and carrier fees to reduce costs and eliminate 3PL margins.
Conclusion
Shopify has taken a big step in the right direction with SFN. It will move the entire eCommerce industry forward and add some competition where Amazon has been dominant for over a decade.
Smaller brands offering unique D2C products can compete based on quality and experience.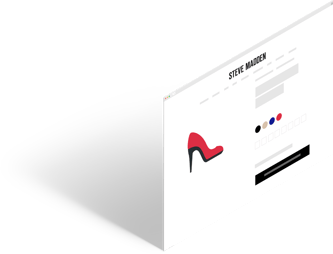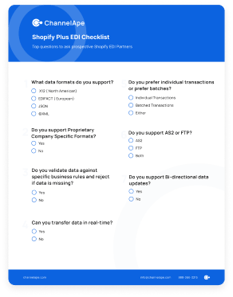 Shopify Plus EDI checklist.
Questions when looking for an Inventory Management System that integrates with Shopify.